Selling Your Home In The Winter 
real estate market may seem undesirable to some, but it has many overlooked advantages that actually make the cold dreary season a potential sellers-market!  Winter buyers are generally more serious, understandably, as most people don't enjoy donning winter-wear and braving the cold icy roads and weather just to check out the real estate market on a lazy Sunday. Additionally, with fewer properties listed for sale, the market is smaller, making it easy to stand out. Keeping up with yard work and weeding gardens is no longer a problem, and stringing some warm lights around the outside of the house gives some extra curb appeal that you don't see in the summer months.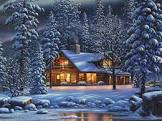 Clear pathways
to the garage, house, road and mailbox to demonstrate that the home is well cared for, both inside and out, and additionally display the ease of access to the property by removing visible physical barriers from the eye of the potential buyers.  

Open the curtains

and let the whiteness of the snow and the sun shining add natural light and beauty to your space. Clean your surfaces and windows well to add an extra sparkle.

Put on a fire.

Keeping the home warm to make sure home viewers are warm and comfortable invites them to stay longer, and lets them see the home as a welcoming, cozy environment. You can also give each room a warm touch with blankets or throw pillows. 

Adding warm seasonal lights

on the exterior of your home, and adding wreaths and garland to doors and window frames adds an extra pop of seasonal beauty.  

Emphasize spaces

that will appeal in the winter like basement playrooms, exercise areas and heated tool sheds.
Selling outside of the peak season can be just as attainable and much less tiring than trying to sell in a market with much more competition.  If you have any questions about when the best time is for you to sell, reach out to your real estate agent for advice and sell your home with comfort and peace of mind.